Chris Shaw warmed up in style for the Buderim Snooker Club's annual Champion of Champions tournament with an outstanding performance against Queensland's best player during a high-class event on Saturday (March 3).
Shaw shared his two-frame encounter with state No.1 Robbie Tibbs following an impressive early break of 47 on a day when Buderim's top cueists stood tall.
"It's good to test yourself against these types of players," Shaw said.
"It's not very often you get to face players of such a high standard."
Five Buderim members featured against two of Queensland's leading men in a day-long exhibition organised as part of the village's 150th anniversary celebrations.
David Armstrong and Tristan Claridge, who are both former winners of Buderim's club championship, won frames against Queensland No.5 Tom Lucas in front of an appreciative audience.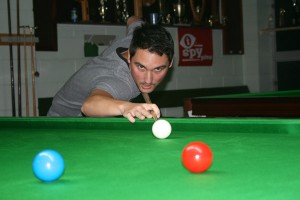 Tibbs, a winner of tournaments in Australia and England, showed his class in the final match of the day with a memorable break of 77 as he beat Lucas to take the major prize.
"Snooker is a dying game," Tibbs said. "Days like this are about encouraging people to play and keeping snooker alive."
The sport in Australia has experienced a resurgence following Neil Robertson's victory in the 2010 World Championship and the club's membership is rising.
The next major event is the Champion of Champions round-robin tournament on March 17 and 18.
Club Captain Ron Cleaver said players of all standards would be competing for more than $400 in prize-money and the right to raise the coveted Gordon Kendall Memorial trophy.
Shaw, Claridge and Armstrong are the main contenders, but they will face strong competition from Rob Ward and James Haining.
Matches in the tournament begin at 9am on both days at the club's rooms inside the Buderim War Memorial Hall.
Visitors are welcome and refreshments will be provided by I Spy Pies. For further information call Mr Cleaver on 54561748.