Our qualified teacher and referee, Mike Naray, recently returned from NSW where he had the honour of refereeing the final of the Oceania Open Snooker Championship.
The Oceania Billiards and Snooker Federation currently consists of organisations from countries in the South Pacific – Australia, New Zealand, Papua Ne Guinea, Tonga, Fiji and the Solomon Islands.  Every two years, it organises a snooker tournament between players from those countries with 5 Snooker Championships  – Open, 6-Red, Women's, Master's and Under 21.  An Open Billiards Championship is also held.
This year in March the Championships were held at Mounties Club at Mt Pritchard in NSW.  In the Open Championship, after a round-robin playoff among 16 groups Steve Mifsud came through the knock-out stage to meet Kurt Dunham in the final which was decided over 11 frames – both players coming from Victoria.  After a very tight early tussle the eventual winner was Steve Mifsud who won by six frames to four.  The win earns Mifsud the right to a two-year professional tour card
This is the second such final to be refereed by Mike Naray who commented on the long hours worked by himself and the other referees.  Mike also made mention of the outstanding performance by an eight-year-old girl from Brisbane, Lilli, who defeated her much older opponent  from Sydney by 2 frames to 1 – making a break of 24 and scoring 54 in the final frame.
Our Club is fortunate to have such a respected and qualified referee as Mike  in our midst and we congratulate him on being chosen to referee such a prestigious event as the Oceania Championship.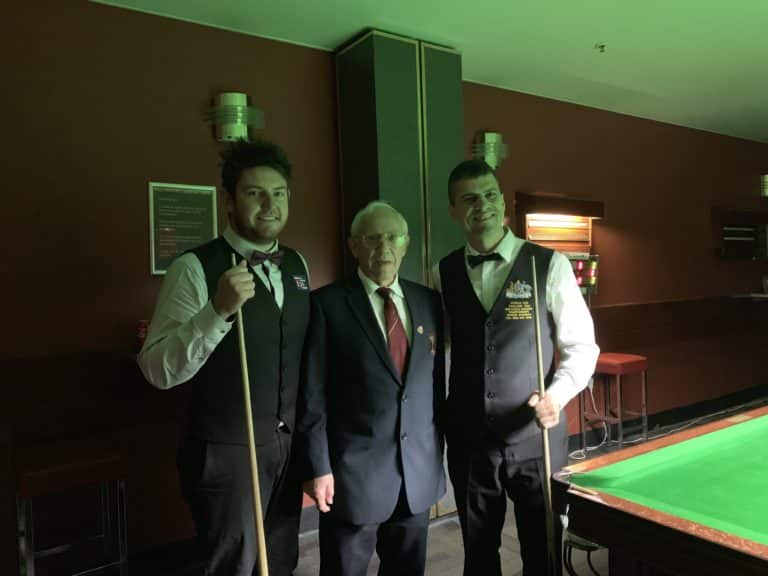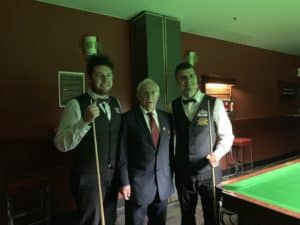 Mike Naray with Steve Mifsud (R)  and Kurt Dunham (L)