Danik Lucas, one of Australia's best cueists, will spend three days at the club in June hosting coaching and exhibition sessions, including specific displays for junior players.
Lucas is a regular visitor and will play snooker at the club on Friday June 4 before conducting coaching sessions on Saturday June 5 and Sunday June 6. On the Saturday afternoon he will give a billiards exhibition with two other highly-qualified competitors and there is the possibility of another display on the Sunday afternoon.
All events are free and anyone interested in registering for coaching should call club captain Ron Cleaver on 54561748.
Bunnings' community barbecues have helped pave the way for more young people to play snooker.
Buderim Snooker Club members have been regulars over the hotplates outside the Maroochydore store in the past two years and the funds raised are been used to get more juniors into the sport.
"This is a big event for snooker on the Sunshine Coast and it wouldn't have been possible without our barbecue fundraisers at Bunnings," Ron said. "We thank them for providing us with a spot during the year.
"With young people often finding it hard to find ways to stay entertained, these sessions will give them an opportunity to learn a new sport and use up some energy.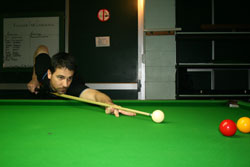 "Our club is always on the lookout for younger members and receiving tuition from one of Australia's leading snooker and billiards players is a great way to start."
The club is situated at the War Memorial Hall on the corner of Main and Church Streets in Buderim and for further information call Ron on 54561748.