John Wells has won the final of the 2010 Champion of Champions competition at Buderim Billiards and Snooker Club Inc.
John Wells edged out runner-up Brian Browser in the final to take the title. John played well in the final making the high break for the competition of 40 on his way to yet another title. The winner collected the first place prize of $125 worth of dinner vouchers, runner up received $75, two semi-finalists received $50 each, and the four loosing quarter-finalists received $25 each.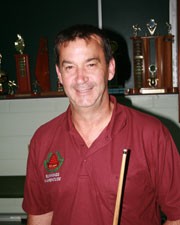 This is the first competition win for John at the club this year, following runner-up in the recent Kilcoy Sheild.
The round-robin stages of the competition were played on Saturday with 5 invited players from each grade competing. The winner and runner-up from the round-robin stage went through to the finals which were played on Sunday morning.
A+ winner – D. Armstrong
A+ runner-up – J. Wells
A winner – T. Herbert
A runner-up – G. Murray
Int winner – A. Davies
Int runner-up –  J. Petersen
B Novice winner – B. Browser
B Novice runner-up – M. Sharples
The semi-finals were played between John Wells and David Armstrong, and between Brian Browser and Jim Petersen. The finals were very close matches with 2 coming down to the final black, 2 being decided on the pink ball, and one match was even a draw with the black needing to be re-spotted.
The club also ran a sausage sizzle outside the club at Buderim Community Hall raising money for the operation of the club.
The next major fundraising event for the club will be a sausage sizzle outside Bunnings at Maroochydore on Friday 8th October.