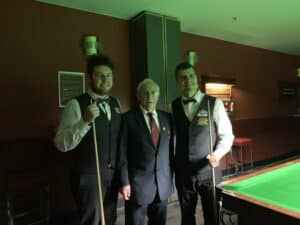 We at Buderim Billiards and Snooker Club were very sad to learn of the recent passing of Mike Naray, the Club Captain at the time.
Our sincerest condolences go to Mike's widow, Christine, and his family.  We were all shocked to learn the news.  He was 75 years old at the time.  Mike's life and association with snooker is filled with many and varied experiences.
The club President, Ian Thomas, said that he was a great committee and club person, prepared to help in any way possible, with a good sense of humour, a tireless worker when Bunnings Sausage Sizzles were on and prepared to help or coach anyone who needed help. A very sad loss to the club. Ian added that he had been a top player when in Sydney and told him recently that he frequently made breaks in the 80 mark and considered turning pro. Upon the breakdown of his marriage he moved to  Queensland.  Mike joined our club in about 2000 and his name appears as Snooker winner in 2001 on the honour board.  As well as a player, he served many years on the Committee and was in charge of setting players' handicaps.
Michael received his referee certification in 2010 and received an upgrade in 2014.  He refereed in the 2012 Oceania Snooker and Billiards Championships at the Princes Centre in Melbourne.  In 2013, he travelled to Port Moresby as a referee for an Oceania event. He also appeared as a referee in Oceania events in Auckland and Albury, as well as two Australian Open Events.  He had the honour of being the referee for one Oceania final, as well as many local Queensland and Northern New South Wales events.
Gary Knight, the NSW Director of Referees for Snooker and Billiards NSW Inc has this to say about Mike:
"So sorry to hear of Mike's passing.  In May 2018, he officiated at the inaugural Ron Atkins Classic in Launceston which attracted a field of 76 of Australia's best snooker players. I had the pleasure of rooming with him on that occasion, and found him to be a true gentleman.  Michael will definitely be missed and Australia's refereeing ranks are all the poorer with his passing"
The Committee and members of Buderim Billiards and Snooker Club Inc can only echo those sentiments.